Safety
Safety is a priority for Definox. We innovate, design and manufacture with this in mind. Definox is actively committed to reducing risks through a personalized training program for maintenance technicians and rigorous support. Providing tools adapted for the job ensures the safety of the people who use our valves.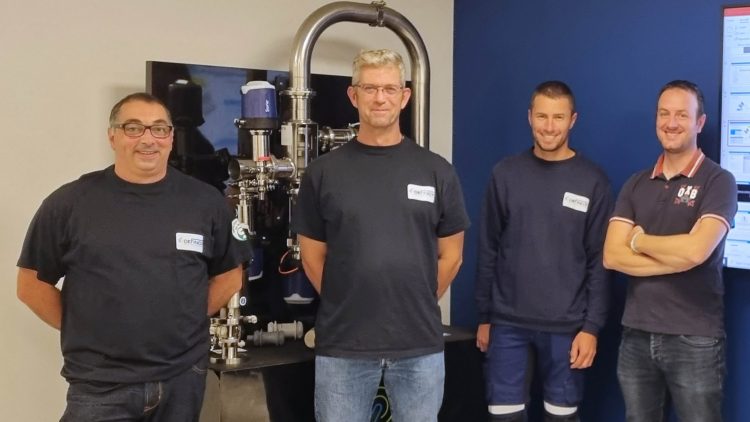 How does Definox respond to manufacturers' preoccupations in terms of safety?
PRODUCT DESIGN
Design responding to safety demands and ergonomy of use
Maintainable products with the guarantee of available spare parts and components for the older generation of valves.
Built in safety devices for a guaranteed protection during use
Specific support for Greenfield projects
Development and improvement of our solutions in partnership with the end users
TRAINING
Practical and theoretical training given on site or remotely
New conference room and video conference equipment for remote training and demonstrations
Training support and modern videos. Long term customer support
Specialized training team
French training standard "Qualiopi" certification
EQUIPMENT
Optimized valve weight for easier handling.
Devices to facilitate the handling and accessibility of manifold valves
Adapted tool boxes
Safety cases for maintenance intervention. Presses for the safe assembly and disassembly of actuators
DEFINOX ID
For Definox, innovation serves to simplify the day for our industrial clients and installers. Thanks to our mobile application "id" Definox, augmented reality allows each valve to be followed and maintained simply and individually.
How does this app work ?
En tout simplicité, les techniciens de maintenance des lignes process peuvent télécharger l'application de réalité augmentée en flashant le logo présent sur chacune de nos vannes. Ainsi, ils peuvent avoir accès à toutes les informations pratiques relatives au produit.
TESTIMONY
Definox takes safety issues very seriously. Safety is taken into consideration from the initial design of the valve to its assembly and maintenance. There are procedures in order to avoid injury, I do not send After Sales Techniciens to intervene under just any conditions.
COMMITMENTS BEYOND THE PRODUCT
LA CERTIFICATION
En 2021, Definox obtient la certification Qualiopi. Celle-ci atteste de la qualité des prestations des organismes de formation. Pratiques et théoriques, Definox personnalise ses formations pour toujours plus satisfaire ses clients.
CUSTOMER SAFETY
Proactive approach to safety by personalized support and a follow-up at each step.
Integration of safety devices as standard for our solutions.
Availability of adapted tools and presses to ensure the safe disassembly of actuators.
Specialized After Sales Service Technicians team for any technical questions and interventions on site.
Product training and safety awareness of our products.
SAFETY EVERY DAY FOR EVERYONE
"I Care" Program to make all employees aware of safety risks and change behaviors.
Quality of Work Life (QWL)
Detection of risk situations and analysis of near accidents.
Gestures and good practices to adopt on a daily basis.
KEY DATA
129
people trained in 2021
IMMEDIATE ACCESS TO INFORMATIONAL AND EDUCATIONAL MEDIA
A Youtube channel with playlist, containing maintenance tutorials and educational 3D animation.
Definox's augmented reality application "id" enabling precise identification of the valve and its spare parts.
Web site with simple, immediate access to the documents and digital media library.
KEY DATA
185
Safety workshops in 2021