Training
Definox offers 2 types of training "processes" or "processes and actuators". At the end of the training the trainees will be able to recognize the standard valves and how they work, as well as the steps for disassembling and assembling the valves for safe maintenance interventions.
Definox is certified QUALIOPI (French quality training certification).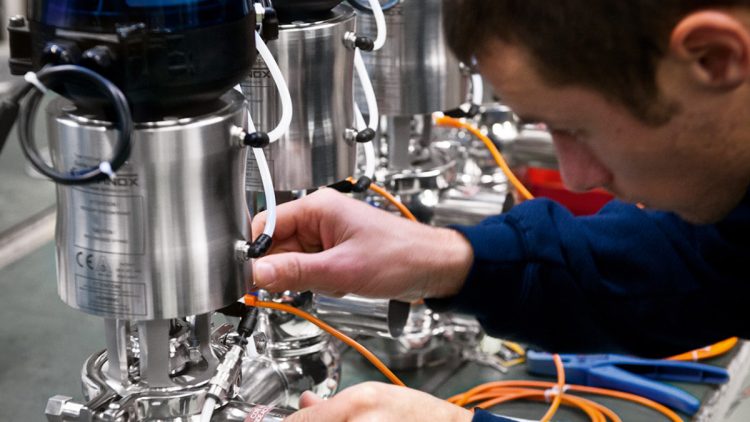 2 types of training to cover all your needs
3 STEPS FOR A SUCCESSFUL TRAINING
1
A tailor-made program
Preparation of your training
We adapt to your needs! Each training request is studied according to your specific needs and the precise objectives defined by your departments. The length of the training is determined by the type of valve covered. The 2 trainings, "processes" (for pieces in contact with the products) and "processes/pneumatic actuators", have no prerequisite levels.
2
Theoretical training with hands-on experience
How the sessions work
The training is ensured by specialized trainers. For the theoretical part they rely on a detailed visual power point presentation and video and 3D animation tutorials. Demonstration valves and a press are used for the hands-on practical experice. During the training, evaluations are carried out to validate the theoretical and practical knowledge acquired by each trainee.
3
An evaluation of the training to better respond to your expectations
At the end of the training
With a permanent concern for improvement, a questionnaire will be sent to you at the end of the training to measure your satisfaction and for us to take any necessary corrective action.
Each trainee will also receive a certificate stating they have completed the training.
conditions
The training must be validated and confirmed with a signed agreement by both parties (the beneficiary is DEFINOX) at least 15 days before the starting date of the training. For everything to run smoothly you may contact Emily Kopp at +33 2 2803 8821, if any participants have special needs requiring a particular adaptation.
definox training by the numbers