REPARABILITY: a requirement for manufacturers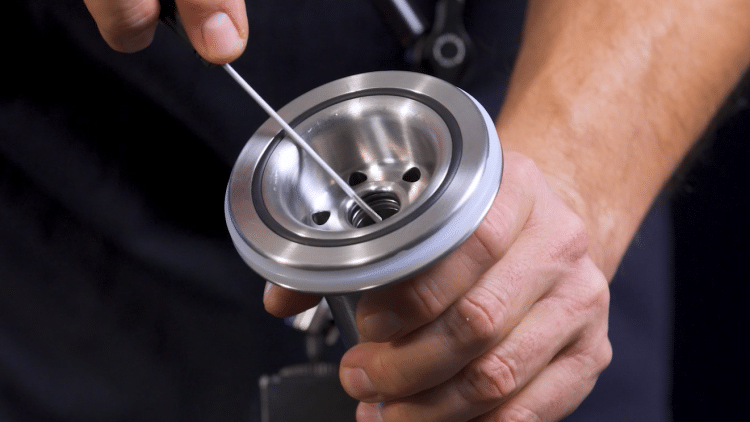 Last June, Definox took part in a round table organised by Ubleam on the theme of "Repairability in the digital age". This topic reflects the expectations of our customers, the users of our valves. To better meet their needs and requirements, Definox is constantly developing and improving it "Definox id" augmented reality mobile application.
REPLACE OR REPAIR? DEFINOX OPTS FOR REPARABILITY
Definox customers are very demanding and are careful to keep their production equipment running efficiently and in good condition for as long as possible.
They also aim to ensure that their processes are safe: that their production is not contaminated, and that the integrity, regularity, and quality of their products, which are then consumed, are guaranteed. The equipment in direct contact with the manufactured product must be hygienically reliable. With regard to the hygienic requirements of the agri-food market, Definox ensures compliance with the standards and regulations in force.
To ensure continuity of production under the best possible conditions, some customers call on our Retrofit service, either on their site or at our factory in Clisson.
As well as being refurbished, the valve can be upgraded to take advantage of the latest technologies.
The end-user then has a piece of equipment that has been refurbished and modernised. These upgrades are made possible by the modularity and interchangeability of valve components and Sorio® control tops.
As opposed to programmed obsolescence, Definox products and processes are optimised for durability. Everything is done to repair them and keep them efficient and productive. One of the 5 criteria of the reparability index for Definox products is access to documentation. Definox has therefore decided to facilitate access to information for valve maintenance and to simplify the identification of wearing parts. This is how the application developed with the company Ubleam came into being in 2017.
DEFINOX ID: THE DIGITAL SOLUTION FOR A MORE REPAIRABLE WORLD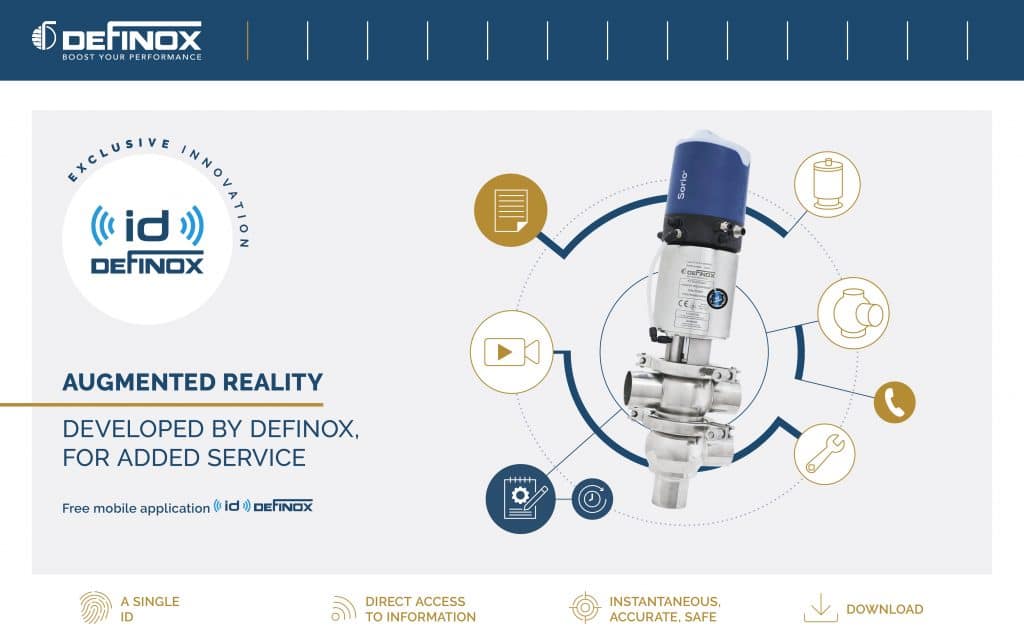 The "id" application is a genuine service for customers. A service that accentuates the notion of repairability for Definox products.
Each valve or piece of equipment is tagged with a unique label for each product installed. The tag can be scanned using a mobile phone or tablet. Augmented reality appears instantly on the screen, providing access to information identifying the product and its spare parts, documentation, videos, and the individual service booklet.
This individual service booklet, the latest feature to be integrated into the original augmented reality application, contributes to a better user experience. It's no less than an on-board "logbook", available for each valve fitted with an "id" label. The valve user can add information such as its location in the workshop, record maintenance operations carried out, add photos of the valve in its environment or indicate when the next maintenance is due. The application allows the user to access the equipment's maintenance history at any time. This digital maintenance log is an integral part of the valve.
some key figures…
*when the "id" digital app was launched
An application such as "id" and the use of the data it generates must be designed to make life easier for product users.
Definox has achieved this objective if users instinctively associate a product with its ease of use!
The reparability of our products, in all their forms, contributes to our transition towards a circular economy.